Kinder Scientific's Elevated Plus Maze has higher resolution and specially created measures that enhance your ability to quantify anxiety. For example, with beams mounted on the edge of the open arms, we capture the animal hanging its head over the edge. Going out on the cliff is one thing, hanging over the edge of it is another! And the Elevated Plus Maze's high resolution can separate arms into multiple zones. These multiple zones report how far an animal retreats from the intersection into closed arms and how far it dares go into the open arms, a truly unique ability in quantifying the animal's emotions!
As with all our activity systems, the Elevated Plus Maze system has been designed with advanced features and ease-of-use in mind. It uses Windows compatible MotorMonitor software, common throughout our activity line.
MotorMonitor's post analysis software provides greater flexibility in analyzing and re-analyzing data based on different parameters. The measure "Pokes Into Zone" was specially designed for the Elevated Plus Maze; it differentiates between an animal's complete entry into a zone and when it conducts only a small head poke into a zone. The Motor Monitors' advanced diagnostics uses the exclusive Kinder Scientific 4 level test which runs automatically before each session. Each Elevated Plus Maze operates through a single cable.  This makes for an exceptionally clean connection setup by eliminating the "rats nest" of cables of the past! And, the cables are available at your local computer store, providing easy and cost effective replacement! Because of its unique design, it is possible to run 2 more Elevated Plus Mazes simultaneously, thereby increasing throughput! Elevated Plus Maze systems are available in both rat and mouse versions.
All Kinder Scientific Elevated Plus Mazes are constructed of high quality, square aluminum tubing that is precisely machined. This method allows you to collapse the Elevated Plus Maze in just a few minutes for storage! The Elevated Plus Maze collapses down to 15″ by 44″ as demonstrated in the picture above. All surfaces that the animal comes into contact with are made of high quality cast Plexiglas and are also machined for accuracy.
The Elevated Plus Maze's dimensions have been selected from a literature review of plus mazes and are the most common dimensions used. Additionally the electronic beam configuration contains the following features:
1. 32 Total Position Beams – 16 X beams and 16 Y beams providing the highest resolution system available. This permits 6 beams for each arm and 2 additional beams, which finitely capture the subject when located in the intersection.
2. The high density beams also permit the capture of "corner stretches", a common risk assessment behavior.
Features:
Kinder Scientific Exclusive!!Optional Advanced Graphic Comparators – HotSpots™, Playback™ and OverTime™.
Acquire instant, graphical comparisons of session results!  You no longer need to make assumptions with zone maps!  View where animals spend their time, automatically!  After you have viewed the HotSpots, you can create a zone map based on actual activity.  You can display data from a single enclosure or from an enclosure ensemble, allowing you to visually compare animals or groups. The chart below shows the group analysis of many animals (15 in this case) where the closed arms are horizontal and the open arms are vertical.
"Blue" shows where the animals spent little time and red shows where the animals spent a lot of time.  Activity concentrations which fall between the two extremes follow the color spectrum between red HotSpots™ and blue.  Instead of just showing "open arm" or "closed arm" time, the Advanced Graphic Comparator shows EXACTLY where the animals spend their time during your experiment!  This option is an extremely powerful aid in analyzing activity behavior!  This feature is an excellent visual tool because you can open multiple windows to compare groups.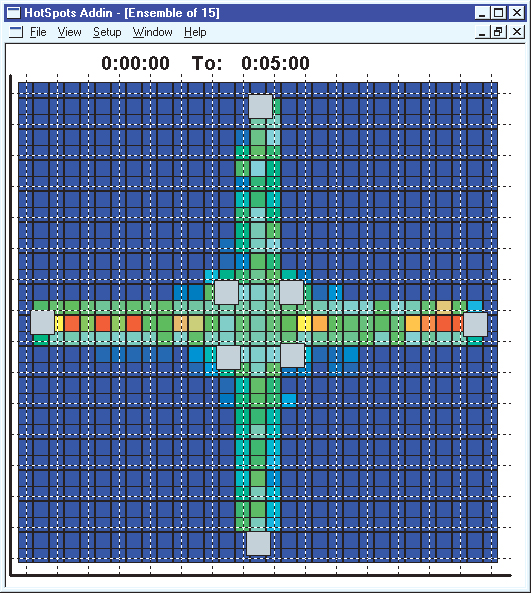 View the path of an animal from a data document; speed it up if desired.  You can overlay a compatible zone map and see activity relative to the areas of interest and set the time-sliding time clocks to view only the period of interest.  You can also trace the entire path of the animal and print the results.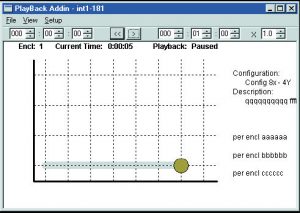 This option allows you to view the changes in activity Over Time.  The chart zone metrics (Total Time, Rest Time, Distance, etc.) allow you to view these changes for multiple zones.  Seeing how an animal or an ensemble of animals change as time changes allows for establishing baseline expectations as well as displaying a view of the changes that a drug causes over time.  Below you can see an example of the classic Periphery versus Center zone analysis.  Creating these views is very simple with a minimum of parameters to set.
32 Infrared PhotoBeams
Individual start button at each station
Automatic 4 level diagnostics
Maximum Stations 8
Computer Interface – a single RS232 Serial Port
User Definable Zones
Post Processing Analysis
Session Templates
Individual Runtime Clocks for each station
User selectable output measures
Measures:
X Ambulations
Y Ambulations
Time in Zone
Time at Rest
Entries into Zone
Time Active
Fine Movements
Pokes into Zone
Total Breaks
Distance
Hardware Specifications:
Computer Requirements: IBM PC Compatible with Windows 7 Pro or Windows 10 Pro, Pentium 133Mhz processor, 32 meg Ram, SVGA monitor, 50 megabyte free hard disk space.
Power: 90-240vac 50-60 Hz
PhotoBeams: 48 Infrared PhotoBeams
Computer Interface: A single ethernet connection or RS232 serial port, regardless of the size of the system!
Rat Maze Overall dimensions: 44″ wide x 44″ deep x 33.5″ tall
Rat Arena dimensions: each arm is 4.25″ wide and 19.75″ long, intersection is 4.25″ by 4.25″, closed walls are 15.75″ high.
Maximum number of stations: 8
Mouse Maze Overall dimensions: 30.5″ wide by 30.5″ deep by 30.5″ tall
Mouse arena dimensions: Each arm is 2″ wide and 15″ long, intersection is 2″ by 2″, closed are wall is 6″ high.