Why Select Kinder Scientific as Your GLP Supplier?
In 20 years, Kinder Scientific has sold nearly 1000 systems, nearly 65 of which have been GLP. We have replaced 40 competitor GLP systems including several competitor systems that were never able to get through the validation process!  In contrast, to our knowledge, only a single Kinder Scientific system has ever been replaced by a competitor.
Key Features of our GLP Services and Support include:
System Migration Protection
Strong Validation Support
Transparent Specifications and Algorithms
Documented On-site Verification, Installation, and Training
Industry Leader for GLP Sites
Only Validated and Published System against 21 CFR Part 11- Over 40 Systems Validated and in Production to Date
Industry's Best Extended Warranty
VALIDATION SERVICES
Since it's inception Kinder Scientific has placed special attention on GLP Labs and has become the premier supplier for this very demanding environment. We have always believed that service is extremely important as well as openly accepting responsibility for the performance of our systems industry wide. Meaning what one GLP lab knows, they will all know. We offer advanced systems, unsurpassed service, and ongoing comprehensive validation support.
THE GOAL – Reaching and maintaining a state of compliance takes more than just addressing software issues. For more than a decade, industry has pursued the burdensome challenge of computer system validation and has frequently been frustrated with that process. While it can be a very complex undertaking to reach full compliance, it can be put into this single phrase:
CONTINUALLY PROVE THAT THE SYSTEM AND PERSONNEL PERFORM AS INTENDED AND DO SO WITH FULL DOCUMENTATION.
Compliance is not a single event. The initial burden of reaching it can be significant, but remember that just like with all other GLP requirements it is a condition that must be maintained. That is why choosing the most reliable and proactive vendor can be the most important factor in the decision for your GLP-compliant Behavioral System.
Our Commitment as a GLP Vendor
The recent changes at FDA have provided an opportunity to streamline the process of validating Behavioral Test Systems, especially those provided by non-regulated suppliers. FDA is making it clear that with good vendor partnerships, your GLP lab can reduce the effort needed for compliance.
With over 65 GLP site installations to date, we lead the industry in GLP services.
• Industry Wide System Performance
• Source Code Review
• Innovative Technical Validation Tools
• Factory Audit Support
• Platform Migration
EM100 Photobeam Validation System – A Key Component for your Validation Plan
This is the industry's first (and only to-date) robotically controlled motor activity validation system. The EM100 System has been specifically designed to help the GLP customer reach full compliance in meeting 21 CFR Part 11 requirements for validation.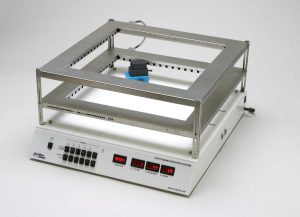 The only Behavioral System independently validated against 21 CFR Part 11 and published (Schering-Plough).
FDA Software Validation Guidances States –
"Software verification and validation are difficult because a developer cannot test forever, and it is hard to know how much evidence is enough.
In large measure, software validation is a matter of developing a 'level of confidence' that the device meets all requirements and user expectations."
In the past simple and unreliable hand movements were used to "validate" a motor activity system. Such an approach does not develop a high "level of confidence" that the system is performing properly. The EM100 System has been designed and validated to challenge a motor activity system with complex & auditable photobeam patterns. Additionally these complex patterns are much more analogous to actual animal movement than the earlier models.